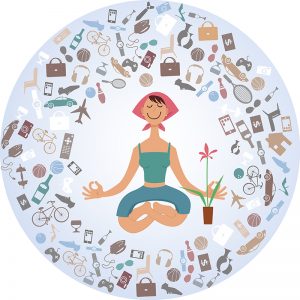 If you have a move on the horizon, you know there is a lot to do in order to make your move happen, especially if you have lived in your current space for a while. You may find you have accumulated more stuff than you realized, which is perfectly normal, even if it makes moving more challenging. However, there are many things you can do to make the relocation process easier. Rather than wait until the last minute, start early, and take time to declutter before your move instead of packing up all of the things you never use and having stacks of boxes you never open in your garage.
1) Measure and plan
If you have advance access to your new place, measure the rooms, especially closets. Make a map of the new space and mark where your furniture will go and where shelves, closets and other storage places are. Don't feel like you need to make an accurate floor plan. You can draw each room separately from each other, if you want.
If it's too onerous to walk around the new place with a measuring tape, you can actually use your own feet to measure. Our foot is approximately a foot, hence the name. If you have smaller feet, measure just your foot and leave a couple of inches between each step to make up a foot. You can get a good approximation of size in this way.
If you are unable to measure the space, visualize it in your mind. Remember that spaces without furniture always seem larger than they actually are.
Plan out one room at a time of what will go where. Are the closets smaller than your current home? If so, weed out things you don't wear any more. Will you need more shelving for your collection? Or should you winnow it down? Think about each room and what will go in them.
2) Make a schedule
As early as possible before the move, make a schedule of days and times that you will work on each room, one at a time, to decide what to keep and what to donate. Allow more time for your basement and garage as they often accumulate items and take longer to go through. Set completion dates for each room. Remember, you have a hard deadline coming up. Stick to your schedule.
3) Start small
Start with smaller decluttering projects first. If you're feeling overwhelmed, tackling a shelf, drawer or smaller rooms or storage spaces will give you a sense of accomplishment and a push to declutter the more challenging rooms.
4) Start with the bottom
Our closets tend to gather a lot of clutter at the bottom. Clean up the bottom of your closet first before weeding out clothes you no longer wear or want to keep.
When deciding which clothes to keep think of these three things:
Can you still fit into it?
Is it damaged or stained?
Have you worn it in the past year?
If it doesn't fit, or is damaged, or you don't wear it, get rid of it.
Once you've done that, tackle the closet shelves. Take everything down, wipe down the shelves, and then only keep those things which add value.
5) Divide into zones
Divide your kitchen into zones. Put pots, pans and cooking utensils near the stove. Store baking supplies near your mixer or where you normally do your baking. Storage bags, containers, plastic wrap and aluminum foil should get its own zone. Cleaning supplies in another. Once you've gathered everything into a zone, you may find that you have more cooking utensils than you need, or more cleaning supplies. Having everything divided into zones makes it easier to see what you have and narrow them down. Also, when everything is in a zone, it makes it easier to pack up your kitchen keeping similar objects together, and easier to unpack at your new place.
Before you get started, create your spaces or piles for your stuff: Keep, Sell, Donate, Recycle, and Trash. As you declutter, place items in these piles before you pack. There are many options to donating your unwanted goods other than Goodwill. Here is a list of great local PDX organizations to consider sending your gently used items to. Before you know it, you will have a lot less to move to your new home!
And don't forget to contact us 3-6 weeks ahead to schedule your cleaning, packing, moving, or storage service!