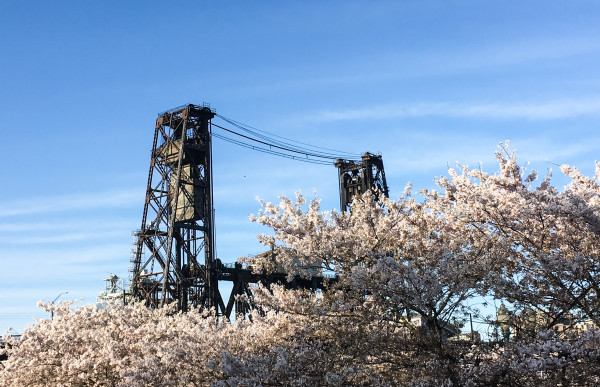 Local Portland Non-Profits To Donate To
As a locally owned and operated company, the team at Bridgetown Moving & Storage knows first hand how unpredictable springtime in the Portland area can be. One day, our movers will be carefully wrapping the furniture with moving blankets to keep them safe from the spring showers . The next, our crew will be trying to stay cool and hydrated while they work in the sun.
The year's first rays of sunshine also brings out the "spring cleaner" in everyone. This time of year, many customers let us know they are downsizing or attempting to de-clutter their homes. With the stress of moving, many do not have the time to research the best places to donate their unwanted items. We try to assist in planning as much as possible but move day is always smoother if there is a clear itinerary in mind complete with addresses. Some customers end up running out of time and ask our movers to drop unwanted items at a garbage site, which usually comes with a disposal fee. As an eco-conscious company we hate to see these items go to waste. We also know that they could be useful to others or often re-purposed into something rad.
To help make your packing and moving process easier, we gathered a list of local donation options. All of the organizations listed below are non-profit and largely volunteer based, so you can grab a receipt and claim your donation on your taxes. They range in the types of items they accept, so you are sure to find one that will work for you. If any of these interest you, please let our office know and they can discuss adding a second stop to your move. Many also do offer their own pickup service but have limited hours available, make sure to call at least a few weeks ahead.
The Community Warehouse
The Community Warehouse is an amazing local, non profit organization that gave assistance to more than 7,000 of our friends and neighbors last year. It is a great place to drop off your gently used items. Led by volunteers, they accept thousands of donations a year which they distribute to families in need. They also happily accept many items that other organizations do not, such as clean mattresses and blankets. Feel good knowing that your unwanted items are helping people in your community. Have our crew drop off your gently used clothing and furniture at one of their two drop off sites.
Learn more about their organization and check out their complete list of acceptable donations by visiting their website.
Habitat For Humanity
If there are leftover building materials taking up space in your basement or shed from an old home improvement project, Habitat for Humanity would be happy to take them off your hands. Their hard working team of volunteers build affordable houses for our community members. The Portland metropolitan branch has already helped more than 300 families find long term housing options. Your donation may literally help hold up another family's new home.
Learn more about their organization at their website.
The Paw Team
Did your dog outgrow their gently used kennel or refuse to eat the new food you bought them? The Paw Team will gladly take your pet donations. From food to toys and everything in between, they will put your pet items to good use at local animal shelters.
There are many drop off locations around the Portland Metropolitan Area, see the complete list at their website.
Sunshine Division
If you have bags of unwanted clothing or an overflowing pantry, The Sunshine Division can use it to help those in need. It's a wonderful alternative to transporting dozens of cans of beans or other nonperishable items from house to house. Partnering with the Portland Police Precinct, they offer food assistance and gently used clothing to thousands of community members
Their drop-off hours can be found on their website.
Free Geek
After an upgrade, your old technology is usually no good to you or worth very much. Many people ask us to drop their old desktop computer down by the dumpster during their move. Instead of simply throwing it out, consider donating to Free Geek. They take old, unwanted technology and turn them into community learning opportunities. They would be happy to make use of electronic items that are no longer of any use to you.
Learn more about the different electronic items they accept and the many ways they benefit the community at their website.
---
These are just a few of the organizations that offer assistance to our neighbors and community members. If you know any others that you think would be a good for us to recommend to our customers, then please call our office at (503)664-4477 and let us know. We are always looking for ways to help keep Portland great.