Choosing a Mover – Here is our unbiased advice on how to make a smart choice in movers. We want you to be happy with your decision and your experience moving choose to move with us, or not.
Be cautious and do your homework. Here's where to start:
Ask friends and family or maybe a co-worker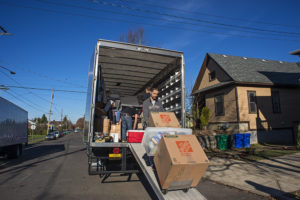 Your friends and family, or even the management at your new building, are the best place to start your research. Who did they use to move? Was the experience positive? Was the pricing fair? Beyond immediate contacts, be sure to read reviews online (yelp, google reviews or BBB). See what other people have to say about the companies you are considering.
Make sure the mover cares about the details
Moving is a details business. Make sure the moving company you choose to work with truly understands your move in advance. If they don't ask a lot of questions or offer to send an on-site estimator (for larger moves), they might change the terms of the agreement on move day when they encounter "unexpected surprises."
Will they send a representative to your home?
The mover may need to view your household contents to accurately assess your moving cost especially if you are preparing for a long distance move. Moving companies base their fees on several factors: weight, volume, number of rooms, degree of difficulty involved, and the time and labor the move will require.
Pricing and knowing what is too low
When comparing prices, try to compare apples to apples. Not all movers are equal and some are less than others and not only in price. Local Portland moves are done by the hour and some companies will charge for drive time or by mileage in addition to their hourly rates. Most movers in Portland market are within the same price range so if any one mover is considerably less you may want to double check the fine print or credentials.
Are they credible
Be smart! Do they have a website with a local address and local number? Is their address a real address (you can check this using google maps street view)? Does their website have images of their crew or their trucks? Is the company licensed and insured? Ask for the mover's Oregon Department of Transport (ODOT) number. Rogue movers will almost always lack permits, workers compensation, and licenses established by law to protect the consumer from fraud and liability. Licenses have to be purchased, approved and renewed. They ensure that you will be covered by basic insurance and that you will have a clear grievance process if a dispute arises.
Professionalism and knowledge
Are they able to answer all your questions and concerns? Do they sound and act professional when you speak to them? Trust your gut. We are big believers in trusting yourself and using instincts to make a good decision.
Local Portland Metro movers are best
Make sure the company you are dealing with for a local Portland move is based somewhere close to Portland. If they are out-of-state or even out of town, they are not subject to operating under OR State laws and you'll be unprotected.