Moving Boxes and Packing Materials for Portland and Vancouver
It is essential to use the right type of packing material when packing up your household goods to help prevent damage. This guide is designed to help you to choose the right material by showing you what is available. There are many different size boxes suitable for different items and there are a variety of other packing materials you will need which are detailed below.
The following moving boxes and packing materials are used specifically for household moving. These boxes and packing materials are manufactured especially to the moving industry specification. You can obtain all these items from us or a moving supply company for a reasonable fee. You can also check craigslist for slightly used boxes. If you are going for used boxes be sure they are still in good shape. Boxes used to carry glassware are very useful and are very sturdy and often contain dividers to separate the glass containers. These can be very useful for packing glasses, bowls, vases and assortment of glass and delicate items.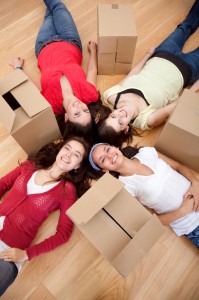 Boxes
Book Box (1.5 cubic feet), size 17 x 123/8 x 123/8: These small cartons are designed for heavy items, such as books, records, CD's, and canned goods.
Legal Tote (2.3 cubic feet), size 24 x 16 x 13: This box is specially designed for your files and folders.
Medium Box (3.0 cubic feet), size 101/8 x 18 x 16: This box is designed for non-fragile and moderately heavy items, such as pots, pans, linen, folded clothes, toys, games, etc.
Large Box (4.5 cubic feet), size 18 x 18 x 24 or (6.0 cubic feet), size 23 x 23 x 20: All large bulky articles, very light, such as pillows, comforters, lamp shades.
Dish pack (5.2 cubic feet), size 18 x 18 x 28: This box has double extra thick walls specifically designed for dishes, vases, glasses and other fragile items. You can also use cell packs separator for china or glassware with individual compartments for the items being packed.
Mirror, picture box: These narrow boxes accommodate different sized mirrors, paintings, other fragile items and flat items.
Wardrobe box with metal bar: This box is equipped with a metal bar so clothes can hang.
Mattress Box: Available in different sizes.
---
Miscellaneous Packing Materials
Tape: The most common tape used for carton sealing is a plastic tape called "PVC".
"Newsprint" paper: NEVER USE NEWSPAPERS as wrapping material. Newspaper ink has a tendency to rub off on items it touches and it very difficult to remove it from items such as fine china. Use "newsprint" paper as cushioning material.
Tissue paper: This can be used to pack up delicate or easily broken items by layering over an over again.
Bubble wrap: This is another material used as cushioning material.
Styrofoam peanuts: Packing material used to protect fragile items. This material is lightweight, clean, lint-free and dustless and safe.
Ziploc bags: These can be used for an assortment of things including small bits and pieces you may have lying about in containers and drawers.
Magic Markers: You will need markers to label the boxes with the contents and its also helpful to mark the appropriate room for delivery.