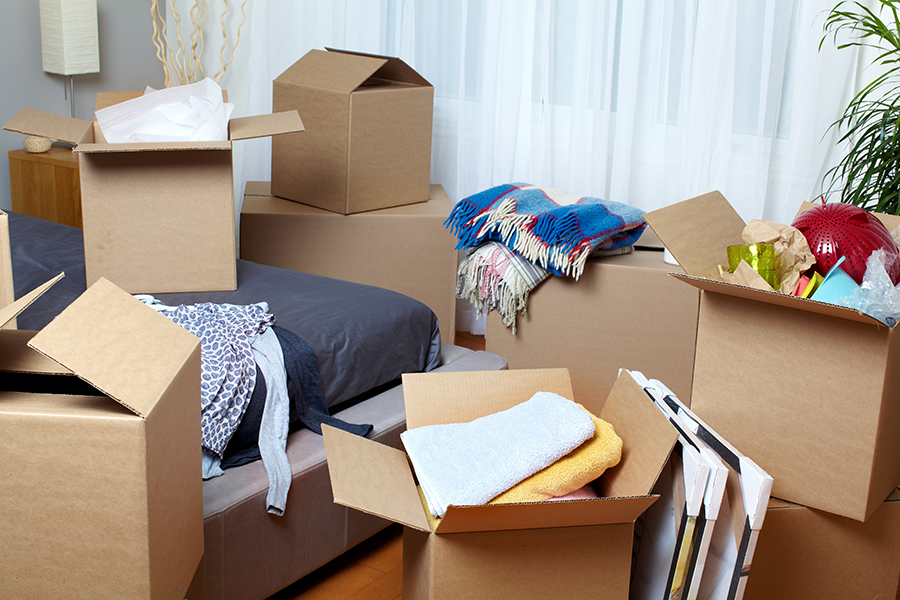 It can be a trying time when preparing to move. There are many steps to moving, but here are five tips to make your move less onerous.
1) Organize 
As soon as you know you are going to move, start organizing as early as possible. Even the most methodical people will often find items they had forgotten about in the back of closets. Instead of waiting until the days leading up to moving day, dig into all the closets, cabinets and every nook and cranny. Not everything will work in your new space. Decide what to keep and what to give away, freecycle, or cast out.
Some use the rule that you should get rid of an item if you have not used it in six months to a year. You may find something you forgot you had, but still want to use. Do not feel like you have to get rid of it because it has not been used recently.

Organizing in advance will keep you from feeling overwhelmed closer to moving day with too many things to move and do.
2) Deep clean
Do a deep clean early on while you are organizing your belongings for the move. Deep cleaning ahead of the move will also make it easier to do your final clean for the new owners or tenants who will be moving in. Baking soda, vinegar, and hydrogen peroxide are great, versatile, natural cleaning agents.
You will already have a lot to do on moving day, cleaning will be last on your list. Get ahead of the curve.
3) Moving Essentials
Pack a bag with essentials you will want immediately for use the first few days upon arriving at your new place. No one wants to spend hours searching through boxes for their toothbrush or coffee mug.
Include some or all of the following as suits your needs:
Keys

Chargers for electronics

Daily medicine

Identification

Phone numbers of moving company, bank, lender, etc.

Toiletries (toothbrush, toothpaste, soap, shampoo, deodorant)

Bedding

A few days of clothes,

Rags or washcloths for cleaning your new place

Cleaning supplies

Toilet paper, paper towels

A small tool kit

Flashlight with new batteries

Scissors

Plates, utensils, cups

Basic meal prep, snacks, beverages

Basic cookware

Pet food and dishes

Instant coffee or tea, coffee mugs.
4) Documents
Gather your important documents (passports, home papers, health records), photographs and jewelry and keep them in a separate box that is kept apart from the other boxes. Keep these safe at all times. You do not want to lose these in the move.
5) Car checkup
If you are moving a long distance and driving your car across country, be sure to schedule a checkup. Basic maintenance beforehand will help keep you on track on moving day. Check wipers and fluid levels. Check your battery terminals to see if they are clean. Baking soda will remove corrosion. Inspect tires for rips or bulges. Check the tread and proper inflation. Schedule services such as oil changes or tune ups. Pack an emergency kit (flashlight, blanket, first-aid kit, and basic tools).
Be prepared. No one wants to add several days (or more) in the middle of a move, waiting in an unfamiliar place for the car to be repaired.
Good luck with your move! For even more detailed info, check our Moving Checklist. And if you need help with your move, feel free to contact us to request an estimate and reserve a moving date!