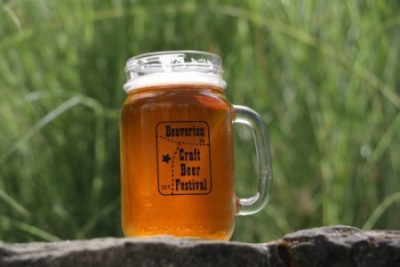 Throughout the years we've helped hundreds of people move around the Beaverton, Oregon area. Just west of Portland, this charming suburb attracts residents from all over the region for a variety of reasons, including the great schools, close proximity to the the city, and the welcoming neighborhood feeling it's known for.

We've met so many great customers in Beaverton that we wanted to give back to their community. That's why we were so excited to be one of the few sponsors of the first ever Beaverton Craft Beer Festival. Suburban beer enthusiasts have had to travel to the city for too long for these types of events; it was finally time for Beaverton to have a little fun!

The festival was conveniently located outside in the grassy Beaverton Round (map), a Max stop, so getting there was a breeze. For just $30, attendees were given a commemorative glass mug and enough taste tickets to fill it up multiple times. The event was a resounding success with locally brewed craft beer from about 20 different breweries flowing all day, live music playing, and food vendors from two local eateries keeping us well fed. I was glad to get an excuse to try out some new varieties of beer and left with a full stomach and a smile on my face.

Although it was a lively occasion, the focus was on community togetherness and charity. The event doubled as a fundraiser and brought awareness to an often forgotten cause. We were so glad to learn that $1 from every ticket went to HomePlate Youth Services, Washington County's only drop-in center and outreach program designed to support and empower local youth experiencing housing instability. With their 3 centers in Hillsboro and Beaverton, this organization was able to assist nearly 900 youths in 2014 alone.

We hope everyone enjoyed themselves as much as we did and can't wait to see you again next year!